Mapping Exposure-Induced Immune Effects: Connecting the Exposome and the Immunome
New charcoal cloth patch measures skin exposure to chemicals: EXIMIOUS at ISES 2023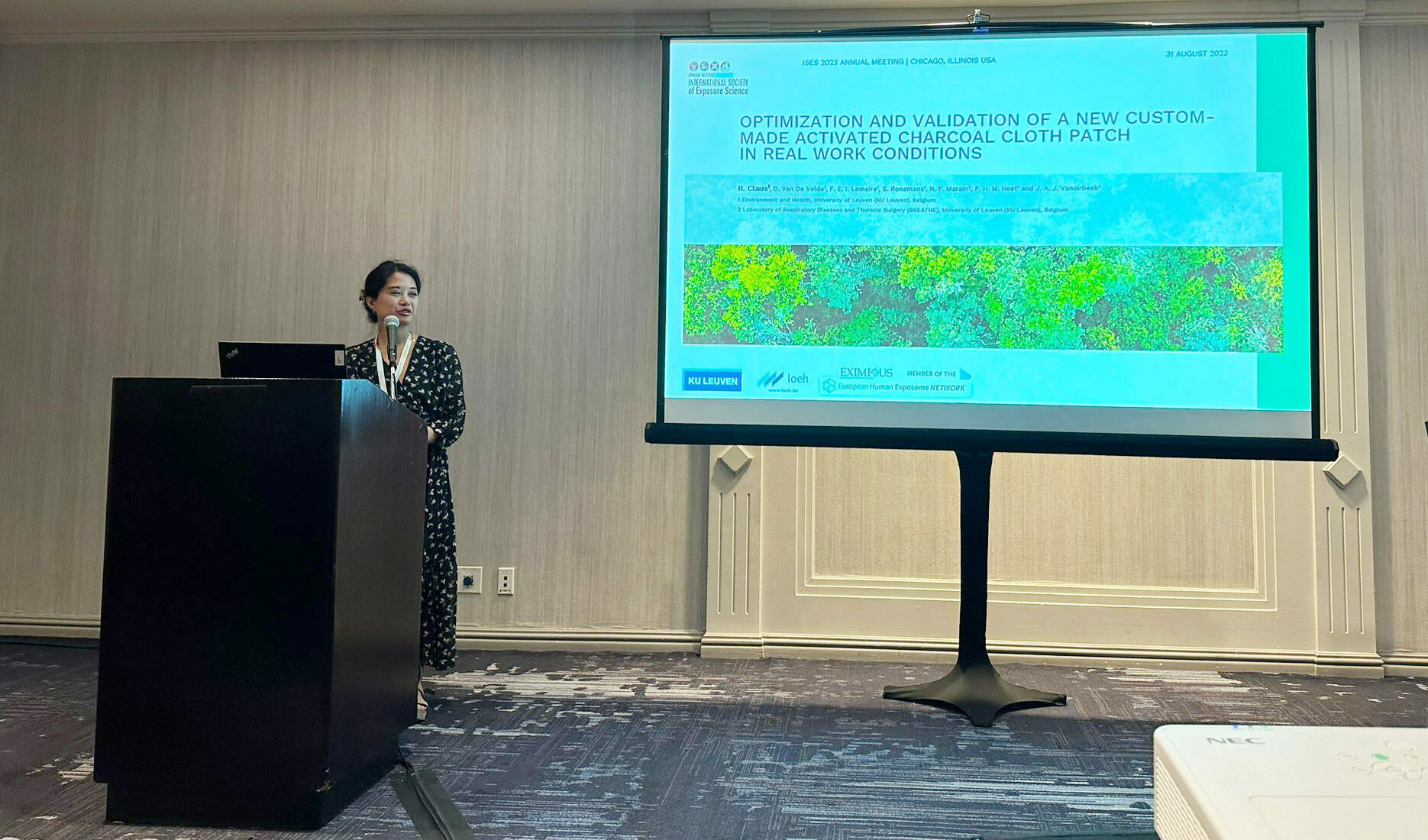 On 31 August, EXIMIOUS researcher Rani Claus from Katholieke Universiteit Leuven, Department of Public Health and Primary Care, had the opportunity to present her latest research at the International Society of Exposure Science 2023 Annual Meeting in Chicago, Illinois, the US. The ISES meeting took a broad look at new and re-emerging (environmental) exposures and their causal link to human health.
The research conducted by Rani Claus and colleagues from KU Leuven involves the design of a new custom-made activated charcoal cloth patch, intended to measure skin exposure to volatile organic compounds (VOC; organic chemical compounds that evaporate easily at room temperature). While it is becoming increasingly important to measure this type of exposure in industrial settings, there are currently no standardised methods to do so. The charcoal cloth patch offers a potential solution to this. 
In the study, the patches were validated and tested on nine spray painting workers in real work conditions. The findings revealed that the patches are capable of accurately measuring skin exposure to VOC in such conditions. Thanks to this innovative custom-made patch, VOC exposure based on the different tasks of workers, such as spray painting, brush painting, VOC immersion or working close to VOC-related tasks, will be better interpreted. In general, occupational dermal exposure will be better assessed, leading to a better understanding of the route of exposure of such volatile chemicals.
Looking back on the conference experience, Rani states: "Attending the ISES 2023 meeting gave me a lot of insight into how the "exposome" is defined from different perspectives of scientists, community members and other stakeholders, creating interesting challenges. This showed the need for a broader assessment of exposure, such as the work we are doing in EXIMIOUS, and the exposome's connection with human health."