Mapping Exposure-Induced Immune Effects: Connecting the Exposome and the Immunome
From data management to exposure to crystalline silica: EXIMIOUS presents at the EPICOH and SOT 2023 conferences
Dr. Manosij Ghosh from our team at KU Leuven and Dr. Evangel Kummari from NIPH had the opportunity to present some of EXIMIOUS' most recent results at the 29th International Symposium on Epidemiology in Occupational Health EPICOH 2023 in Mumbai and the 2023 Society of Toxicology Annual Meeting in Nashville. Read on to learn about what they preented and how their respective conference experiences were.
One of the key milestones for EXIMIOUS was to set up a data management plan (DMP) that would enable the smooth, safe and efficient handling of data within the project while also making it as FAIR (findable, accessible, interoperable, reusable) as possible for other users. The EXIMIOUS project includes cohort studies involving teh collection and analysis of many data types, such as biological samples, biobank data, register-based cohort data among others. Thus, setting up a DMP and the related tools and infrastructure requires a substantial amount of work and collaboration between all partners. This resulted in one of EXIMIOUS' first tools: the DMP-Check. While we look forward to making it publicly available soon, this was the core of Dr. Manosij Ghosh's presentation at EPICOH 2023, titled 'FAIR Data management in exposome research – a case study from the EU-funded EXIMIOUS project'.
Organised as a hybrid event on the 14-17th March, the EPICOH 2023 conference was attended by about 200 in person and more than 100 online participants. The EXIMIOUS work was presented in one of the 6 parallel session on 'Occupational Epidemiologic methods', which was attended by about 30 participants in person. "Our work was well-received and generated some discussion around FAIR data management- including questions of whether the EXIMIOUS experience could be translated to other projects, and if the data management framework, which is based on European regulation, could be implemented in a broader context." says Manosij on reporting from his conference experience. "There was curiosity about scenarios which were the most challenging for EXIMIOUS".


Just a few days later and on the other side of the globe, Dr. Evangel Kummari presented an exploratory analysis titled 'Exposure Induced Immune Effects of Crystalline Silica Particles on Human Whole Blood using High Dimensional Immune Cell Profiling'. The study focuses on changes in immune cell profile in human whole blood when exposed to crystalline silica. The findings of the study will help in understanding occupational high-level exposure of silica dust that has been shown to cause several lung diseases and systemic autoimmune diseases. This type of exposure is common especially for mine workers, which the EXIMIOUS project explores in more detail also through a dedicate cohort of workers who are exposed to mineral dust and organic solvents.
With more than 70 Featured and Scientific Sessions, more than 2,000 poster presentations and the three-day ToxExpo featuring 250 companies, the 2023 SOT Annual Meeting was a highly participated event that brought researchers and industry representatives from across the globe to gather in Nashville on the 19-23rd March. Having returned from the conference with a positively received poster presentation, Evangle says "The society of toxicology conference is the hotspot for toxicologists every year to gather, share and learn about the most happening research in toxicology. I have been attending SOT for a few years now and the knowledge I gained at this conference has helped shape my scientific research and career."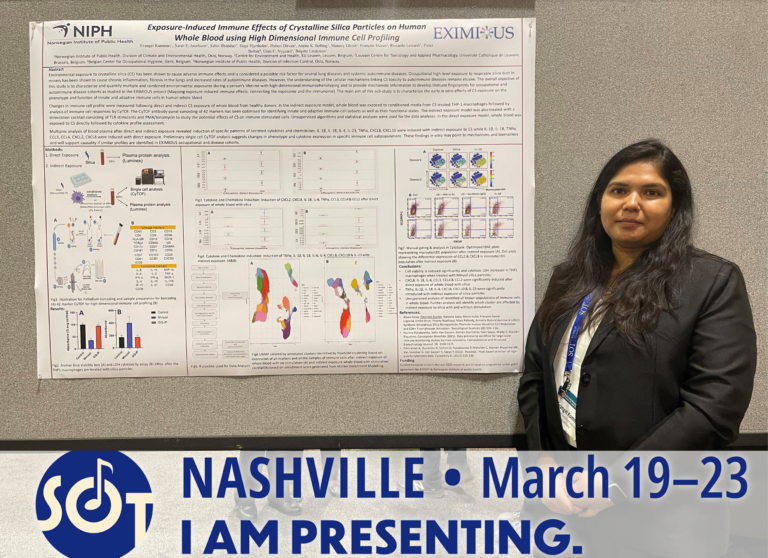 Providing an opportunity to the EXIMIOUS team to present very different results to a broad and equally diverse audience, these two conferences opened the season of presentations, with more to come in the next months.  To learn more about the results from our EXIMIOUS partners, subscribe to our newsletter!